Fine Food and Atmosphere
Restaurant Val di Fassa

Traditional Ladino produce is the starting point to creating our signature dishes. Spend your time in a refined atmosphere, either in the company of friends or that of your loved ones.
A journey between flavors, where deer complements figs or scallops and
crayfish accompany porcini mushrooms.
We provide a wide selection of bottled wine, some also available by the glass. In addition we provide a selection of craft beer to further enhance your dining experience.
Info : +393669355483 booking is appreciated

Restaurant Campitello di Fassa
Our dining area has 50 seats and can host groups for your special occasion, we are happy to create with you the menu to meet your taste.
OPEN from 12.30pm to 2pm and from 7pm to 10pm
Sunday, Monday and Tuesday closed for dinner

The chef Vladimir and all the staff of Della Villa Restaurant are waiting you!
Fornito da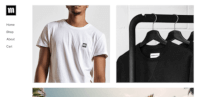 Crea il tuo sito web unico con modelli personalizzabili.